Todas las revistas de la Web of Science Core Collection (WoSCC) recibirán un Journal Impact Factor (JIF)
A partir de junio de 2023 Clarivate, propietaria de la Web of Science, asignará por primera vez el Journal Impact Factor (JIF) a las revistas de la base de datos multidisciplinar Emerging Sources Citation Index (ESCI) y de Arts & Humanities Citation Index (A&HCI). Hasta ahora, en el ranking de revistas JCR solo encontrábamos el factor de impacto en las ediciones de Science Citation Index Expanded (SCIE) y de Social Sciences Citation Index (SSCI). Así, todas las revistas de la Web of Science Core Collection recibirán en la nueva versión del Journal Citation Reports (JCR) un JIF. En consecuencia, habrá un total de 21.000 revistas con JCR: las 9.000 revistas del ESCI y del A&HCI sumadas a las 12.000 que actualmente ya contaban con JCR.
El JIF se reflejará con un solo decimal: los cuartiles cambiarán su distribución.
Otro cambio importantes es que el factor de impacto ya no mostrará 3 decimales sino solamente uno. Con el JIF de tres decimales los empates era poco frecuentes, pero con un decimal habrá muchas revistas que tengan JCR coincidentes. Las revistas empatadas en la misma categoría no pueden clasificarse en dos cuartiles distintos, por lo que algunos cuartiles contendrán un número mayor o menor de revistas que en años anteriores (hasta ahora cada uno de los cuartiles contenía prácticamente un 25% de las revistas, como observamos en la Figura 1).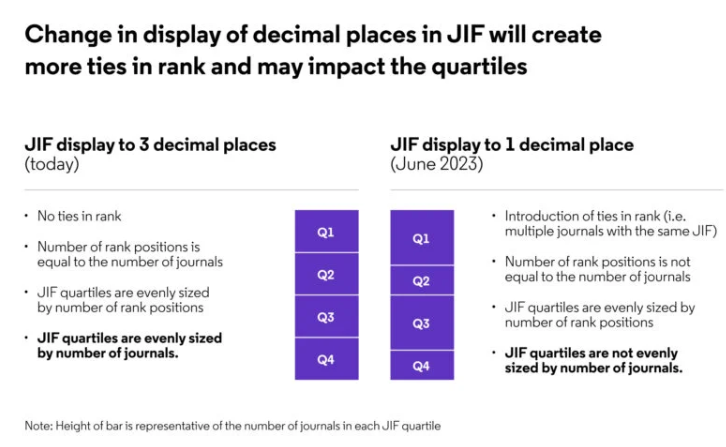 Un único ranking de categorías en 2024.
En 2024, las categorías ya no se diferenciarán por ediciones sino que se creará un único ranking para cada una de las 254 categorías que incluirá revistas de las cuatro ediciones (SCIE, SSCI, A&HCI y ESCI).
A modo de ejemplo, hasta la anterior versión, podíamos encontrar categorías temáticas como Psychiatry en las ediciones del SCIE, SSCI y ESCI. A partir de 2024, Psychiatry se mostrará en una única clasificación que incluirá revistas indexadas en SCIE, SSCI y ESCI.
Algo similar sucederá con otras categorías como Education & Educational Research, que pasará a tener más de 700 revistas, al incorporar las 473 de la edición del ESCI a las 270 indexadas en SSCI. La incorporación de estos títulos provocará movimientos en las posiciones, y algunas revistas podrán subir y otras bajar de cuartil.
En cualquier caso, tendremos que esperar al mes de junio, cuando Clarivate hará públicos los resultados, para despejar todas las incógnitas.
Referencias:
Quaderni, N. (7 de marzo de 2023). Mapping the Path to Future Changes in the Journal Citation Reports. Clarivate. https://clarivate.com/blog/mapping-the-path-to-future-changes-in-the-journal-citation-reports/.

Quaderni, N. (26 de julio de 2022). Announcing changes to the 2023 Journal Citation Reports. Clarivate. https://clarivate.com/blog/clarivate-announces-changes-to-the-2023-journal-citation-reports-release/
Foto de Tobias Fischer en Unsplash